Some of the most valuable brands in commerce have secured the loyalty of their customers by exploiting a commodity first popular with the ancient cultures of Mesoamerica. Archaeological evidence from various sites across Central and South America reveals that regional cultures were using cocoa for making beverages as early as 1900 BC.
Today derivatives of the cocoa bean are found in confectionery and other consumer goods, with a global sales value in the order of $120bn. The chocolate confectionery sector has produced brands that are instantly recognised across the globe: Nestlé, Mars, Cadbury, Ferrero, Lindt & Sprüngli and many more.
Premium Cocoa Value Chain
Premium cocoa refers to a range of beans sold outside the bulk market and may refer to beans which are observed to be of high quality, which may be certified under one of the recognised standards systems, which are deemed to have good flavour characteristics, and all of which are likely to have been centrally and professionally fermented, dried and bagged.
The premium end of the global chocolate confectionery market ($100 billion sales per annum) looks to represent around 11%-12%, for a value of some $11bn-$12bn in annual consumer sales, and enjoying growth of as much as 8% per annum, in contrast to slowing, and even negative growth rates for mass chocolate confectionery. The growth in this segment, correlates to the growth in exports of premium priced cocoa beans from the leading Latam origins.
The consumption trend in favour of premium chocolate confectionery is premised on a better, purer, healthier chocolate experience for consumers, and this trend, and its divergence from the patterns of mass product supply, provides support for upstream cocoa production systems focused on the cultivation of premium cocoa. It also argues against the threat of market attrition to the dominance of cocoa ingredients in premium confectionery, providing much less opportunity for challenger commodities such as palm stearin or shea butter to weaken demand for cocoa liquor, and cocoa butter, in this segment.
The long-range expectation of the International Cocoa Organisation (ICCO), that the global cocoa supply sector has moved into a structural surplus, suggests that the bulk price could remain around the $2,000/mt level for some time: "Our fear is that the world cocoa sector has entered a period of structural surplus that is likely to last for some time to come," ICCO Executive Director Jean-Marc Anga told Reuters during an interview in Abidjan, Ivory Coast. (15th March, 2017). West African smallholder farmers have responded to sustained demand growth for cocoa based products by expanding the planted area of cocoa across the region, but especially in Ivory Coast: Destruction By Chocolate Feb 2016. A period of sustained, low cycle pricing for cocoa, will require that professional or agro-industrial production systems, in order to remain profitable against a background of smallholder production of bulk cocoa, will need to position their output for premium pricing. To achieve such pricing, producers must be able to tap the rising demand for premium ingredients for the premium end of the chocolate confectionery and cocoa-products sectors.
Evidence for Segment Growth
Premium chocolate, understood to be of superior quality to mass market products, comes to the market under myriad brands, and it is marketed with a variety of characteristics considered to be appealing to consumers.
The value of the premium and super-premium segments of the chocolate confectionery market (depending on definitions), is estimated at some $12bn. In September 2015, on the global roll out of its traditional Swiss premium chocolate brand Cailler, Nestle's director of global chocolate marketing, Anne Marin stated to Confectionery News "…the premium segment in chocolate is growing everywhere…". The industry news service noted that Nestle estimated that the premium segment then accounted for "12% of global chocolate sales" (global chocolate confectionery sales are estimated at some $100bn per annum).
ACAL's data for growth in the premium segment, suggests that growth of 7%-8% annually (across a range of markets) does not look unreasonable. Nestle's public comments (also in Confectionery News 30th September 2015), are somewhat more bullish. Nestle was then anticipating that the premium chocolate segment would achieve compound growth annually of 8.4% in the developed markets and 8% in emerging markets. Reference to the published accounts of the world's leading processor Barry Callebaut indicate that the Swiss group's Gourmet & Specialties division has achieved a CAGR of 8.4% in revenues over the period 2011-2016, providing further support for Nestle's growth projection.
Chocolate Confectionery Sector Trends
'Premiumization' of Brand Portfolios; Targeting Lindt
In September 2017, the premium chocolate confectionery brand Godiva announced that it had partnered with supermarkets in the UK (Sainsbury), North America and other important markets around the world (including China, Sweden, Turkey and Saudi Arabia), to introduce a new range of products (Godiva Masterpieces) targeting the premium end of the mainstream market. Oliver Nieburg of Confectionery News, reporting on the move 10th September 2017, quoted a Godiva spokesperson "the UK confectionery market is huge, and within this, the premium chocolate market is set to expand considerably…there is significant scope to launch new products in this category…". According to Confectionery News, the Godiva Masterpieces range will enter 500 Sainsbury stores across the UK. The Godiva strategy of targeting mainstream retail outlets to win a portion of UK consumer spend on premium confectionery, mirrors the strategy that has seen Lindt achieve stellar growth in revenues and profit over the past 7 years.
Owned by the Turkish conglomerate Yilditz Holdings (listed vehicle Ülker Bisküvi), Godiva will be targeting Lindt's market share (at nearly $4bn of sales, Lindt's market share would equal 36% for at premium segment of $11bn annually) in its push across some of the world's most attractive confectionery markets. Godiva has stated that it is seeking to become a $2bn pa revenue brand by 2022 (revenues currently are unknown). If so, and assuming that the premium and super-premium end of the chocolate confectionery market generates annual revenues in the region of $11bn pa, and allowing for growth of 7% pa would imply a premium market worth $15bn plus in 2022, with Godiva having a market share of 12% – 13%, at $2bn of revenues. It would not be surprising if Lindt responded to these competitive pressures by pushing upwards along the premium curve to meet and exceed these challenges.
Lindt & Sprungli
Lindt & Sprungli sets 'the bar' for growth within the premium sector, with sales expanding at a 6.4% CAGR 2009-2016. Within that statistic, the company's recent growth, even in mature markets like Europe has been impressive: for 2016-year revenues of $3.9bn, European area sales expanded by 7.4% and Rest Of World excluding NAFTA, grew by 10.2%. The NAFTA region growth rate of 3.4%, tempered the group performance.
Lindt & Sprungli Sales and Profit Performance

Source: Lindt & Sprungli Annual Reports
Barry Callebaut Gourmet & Specialties
Readers will note that in the period 2011/12-2015/16, the Gourmet & Specialties Division of Barry Callebaut has enjoyed CAGR of 8.4%, contrasting with 6.2% for Barry Callebaut sales (all products) to EMEA region (selected for comparison, as less impacted by acquisitions over the period than Asia and Americas).
Barry Callebaut Gourmet & Specialities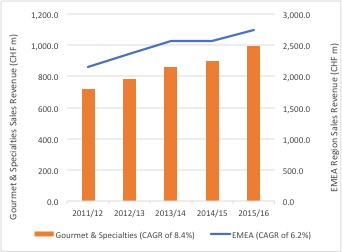 Source: Barry Callebaut Annual Reports
The data for the other names in the chocolate confectionery sector are not entirely comparable with the data shown below for the Barry Callebaut Gourmet & Specialties Division. This division sells only to professional users through the 'food service' channel, while the other names are selling via retail channels (either physical or internet based) to consumers. Barry Callebaut attributes the sales success of the Gourmet & Specialties division to:
► constant growth in distribution
► expansion into new territories and new categories (e.g. Chocolate Gelatto in Italy)
► the ongoing rejuvenation of its brands
► committed investment in marketing and packaging
► active use of social media
► a focus on sustainability o it offers 100% sustainable products for some of its brands
► bolt-on acquisitions.
Barry Callebaut Gourmet & Specialities Sales and Revenue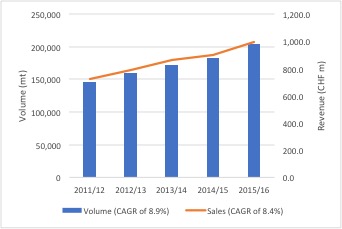 Source: Barry Callebaut Annual Reports
Barry Callebaut observes that it has detected a clear trend in demand growth for:
► premium products
► dark chocolate
► sustainable products
► personalized products
► sugar reduced
► fat reduced
But Barry Callebaut is also careful to underline that 'indulgence' remains a key element within the Food Service segment.